Second-hand Uniform Shop
The popular second-hand uniform shop is run by parent volunteers from the Friends of School. A great way to purchase good quality WBGS uniform at very affordable prices, support the environment and help fundraise for the School.
Opening times
Drop in during these times:
Wednesday (during term time) 3:30 to 4:00pm
Important note: parents are not permitted on to the School site until 3:30pm
Saturday (on the following dates only) 10:00am to 11:00am   
Saturday 11th November 2023
Saturday 6th January 2024
Saturday 2nd March 2024
Saturday 20th April 2024
Saturday 8th June 2024
Payment accepted by card or cash - all funds raised are donated back to the School.
The shop stocks all WBGS uniform from blazers to boots, items priced from 50p to £6.00.
Please note: The dates and information on this webpage are correct at the time of publication (07/06/2023) but may be subject to change. Stock availability cannot be guaranteed. If you require a specific item of uniform please make an appointment below to avoid disappointment.
Appointments available
You are welcome to drop in to the shop but if you would like to book an appointment slot for a specific item, then please complete the booking form here:
Book your appointment at the Second-hand Uniform Shop
Enquiries
Please call the School on 01923 208 900 if you have any questions.
Where to find us
The shop is located in the Cloisters, opposite the entrance to the James Theatre, and staffed by Friends of the School volunteers.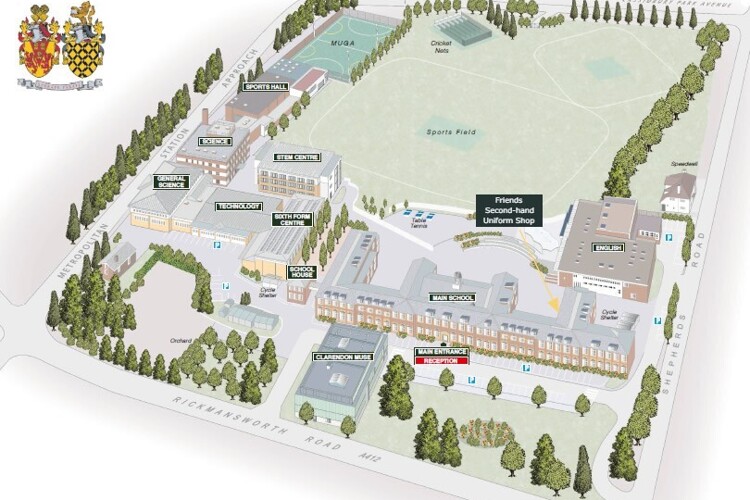 Donate your old/outgrown uniform items
We always need uniform donations!
Year 11 leavers or anyone who has had a growth spurt – please donate your uniform.
Drop-off any time at the drop point by the West Gate (Rickmansworth Road entrance).
Please make sure:
Uniform is in good repair
Clean and dry
Placed in a clean bag


Volunteer's Required
Parents and carers could you spare a couple of hours a term to help run the shop? A great way to make friends and help out.
Please email to find our more: connollyd@watfordboys.org